The longest-running discussion in the sneaker game that at this point, sees no formative end, is the issue of 'Nike Air' on Air Jordan Retros. A quick summary; the Air Jordan was Michael Jordan's signature line under Nike, and until the Air Jordan VII, each and every sneaker featured 'NIKE' branding of some sport; on the AJ1, it was the obvious Swoosh, followed by the 'NIKE' badge on the heel of the Air Jordan II. From the Air Jordan III to the VI, a string of 'NIKE AIR' logos on the heel gave the shoe a definitive trademark (one that ended with the Air Jordan VII), and once Jordan Brand became its own independent company in 1998 (albeit still under the Nike umbrella), Jordan Retros would eventually be recreated with the Jumpman logo instead of 'Nike Air'.
The issue as seemingly unimportant as the brand on the heel has grown to be a larger debate as the years have gone on; those Retro releases have become significantly more delicate as time as passed, leaving Air Jordan purists to retire those OGs or Nike Air Retros for good. Although a petition may not result into a direct change in what's been a custom of the Air Jordan Retro for a decade, the hopeful end result is to catch the attention of Nike/Jordan Brand brass and perhaps plant the idea of bringing back 'Nike Air'. Your thoughts on the debate? Do you feel there are other, more pressing issues that should be addressed (the quality of synthetic materials used, the rising retail costs, the occasional chaotic release date)? Check out the full video detailing the petition below and chime in with your thoughts. Photo: sneakernews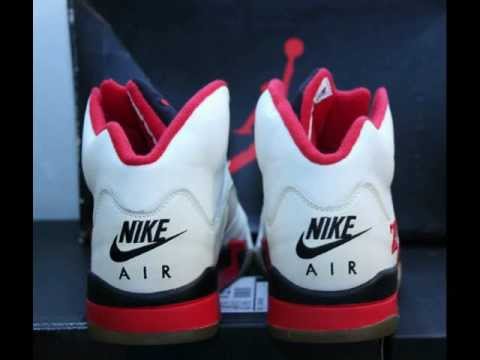 CHECK BELOW, YOU MIGHT BE ABLE TO FIND THESE KICKS ON EBAY.